Elizabeth Lawliss McAdams was born October 1, 1884, near Troy, Alabama. "Sister Lizzie," as she became known, wanted to be a missionary when she was 13. At 25 she felt God's call to preach.
"No woman in our family or near us had ever preached, and people thought I was losing my mind," she wrote later. She and her husband, Hiriam, formed an evangelistic team.
They went to Barbados as missionaries in 1918 and also served as home missionaries. Sister Lizzie was on the first Home Missions Board of the National Association. She served as promotional worker for the National Association in the 1940s and was one of WNAC's first officers.
Folks remember her waving a white handkerchief and inviting others to join in a "wave offering" to the Lord. Sister Lizzie made the motion in 1935 uniting East and West as the National Association.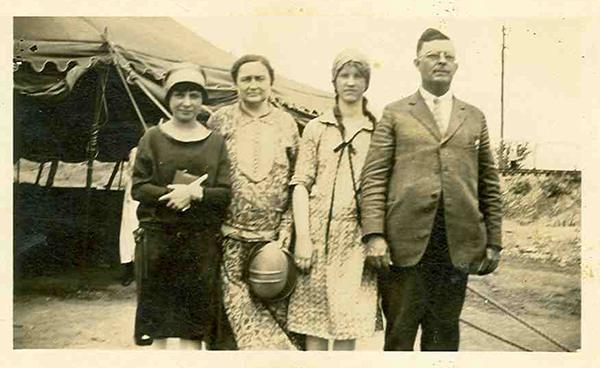 Photo: The McAdams family standing in front of a revival tent (Lizzie second from left).
Damon Dodd called her a trailblazer, prayer warrior, angel of mercy. He wrote of her ministry, "In the Lead Belt of Southeast Missouri more than 3,000 souls were saved out of a population of 15,000… I was one… and my wife and my mother and my brothers and sisters."
Lizzie died at age 80, having spent 54 years in the ministry. In Rolling Stones, she wrote, "We have preached in 17 states,… held about 300 revivals with about 10,000 professions of faith… organized 11 churches and numerous Auxiliaries and Leagues."
Sister Lizzie wrote, "One woman wholly in God's hands outnumbers thousands in the enemy's hands." She was God's woman.
About the Writer: Mary Wisehart served many years as chairman of the Free Will Baptist Historical Commission